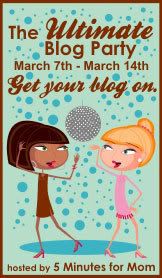 Hello and nice to meet you!



You can read a little bit about me over to the right there! and If you read the posts below…you can find out a little more. Oh, and right now…I'm writing to you from Hong Kong, where I'm participating in a Women's Conference. Wow. But, enough about me…let's find out about you.




Please leave a comment so I can go check out your blog! And, you can sign-up to receive my blog right in your mail box! I'll be giving away a copy of Having a
Mary Heart in a Martha World and Having A Mary Spirit during the blog party!
And starting next week I'll be giving away one of my books each month to people who leave comments on my blog.
So let's get this PARTY started! I want to share something that has been oh-so-very helpful to me!
I discovered Laura Leist's book Eliminate the Chaos …and so I bring to you her "Tossing" tips.
There now you have it…permission to throw away all that clutter. I promise…it's so freeing!
Eliminate the Chaos Toss List



Junk mail



Expired coupons
Old greeting cards –unless they contain a very special message
Old grocery receipts
Invitations –to past events
Outdated schedules
Expired warranties and service contracts
Instructions –for items you no longer own
Expired insurance policies
Bad quality photos or ones you just don't like
Unread magazines –if they're more than three months old
Old catalogs –keep only the current one
Investment and banking brochures you've never read
Cancelled checks –unless they are needed for tax purposes
Checkbooks –if they're more than six years old, or the account is closed
Receipts for non-tax-deductible items
Old tourist brochures from past vacations
Road maps you haven't referred to in ten years
Solicitations from charities you don't intend to give to
Recipes you haven't tried in five years
Articles or clippings you haven't reread in more than five years
~~Is that the rustle of a trash bag I hear?
And what would I like to win…nothing really, but if I'm forced…
~~12X12 personalized wall canvas from Ju Ju Beane Boutique

~~$25 Amazon gift card from Judy

~~$25 Target gift card from Mommy Bytes